Madonna @ Dolphin Stadium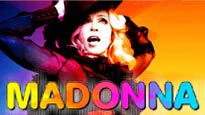 Tonight is the Madonna "Sticky & Sweet Tour" concert at Dolphin Stadium, in Miami. If you're going, be sure to arrive early so you can get parking and get to your seat without rushing. If you are not going, stay the hell away from the stadium and neighboring areas until tomorrow!
I won't be going but my wife is, so I'll see if I can rope her into giving me a report of the concert to share with you here.